I've been looking for another mystery to do once RRCB is finished... And I think I found it!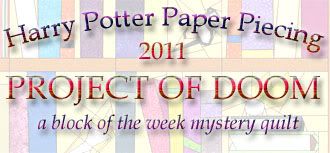 This is the PROJECT OF DOOM! It's a Block-a-Week mystery quilt where you are making a Harry Potter themed quilt block once a week. This will be fun for a couple of reasons. First, It'll be something I can quilt during other projects and it won't be too taxing to make one block per week. Second, harry potter themed is one of my weeks! Third, it's all scrap pieces, and I feel like I'm collecting scrap pieces instead of getting rid of them as I keep on quillting...
I had considered doing Quilt #8 - Sunbonnet Sue as a Harry Potter-themed Sunbonnet Sue quilt... There's still time for that in the future perhaps...
Yay! Another Mystery!!